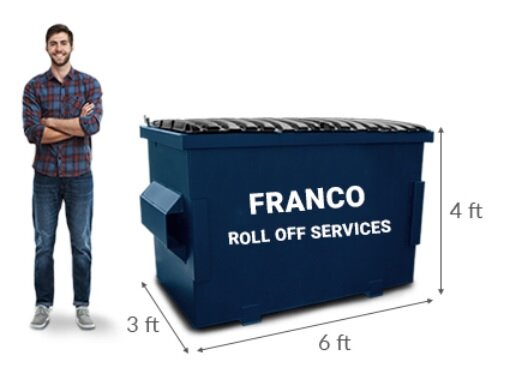 $250.00
Please call to order this item.

Size: 6L x 3W x 4H
Days: Up to 7 Days
Rent Time Extension: $10/day
Ton(s): 0.25 included (500lbs)
Extra Weight: Cannot Exceed 800lbs
Description
• $250.00: INCLUDES 500LBS OF TRASH (PRICE MAYBE SUBJECT TO CHANGE DEPENDING IN THE CITY YOU LIVE.) IF YOU GO OVER THE 500 LBS OF TRASH YOU WILL BE CHARGED AN ADDITIONAL $50.00 FLAT RATE FEE. IF IT EXCEEDS THE WEIGHT OF 800LBS WE WILL NOT BE ABLE TO PICK IT UP EITHER YOU REMOVE TRASH OUT OR ORDER AN ADDITIONAL DUMPSTER AND SPLIT THE TRASH.
• 7 DAY RENTAL: SEVEN DAYS AFTER THE DATE OF DELIVERY WE WILL AUTOMATICALLY PICK-UP THE DUMPSTER. IF YOU NEED TO KEEP THE DUMPSTER FOR MORE DAYS IT WILL BE AN ADDITIONAL $10.00 PER DAY. YOU MUST CALL IN ADVANCE TO LET US KNOW YOU WILL BE NEEDING THE DUMPSTER TO REMAIN ON SITE ADDITIONAL TIME. THERE WILL BE A 2-WEEK LIMIT TO THE DUMPSTER BEING ON SITE. YOU MAY REQUEST EARLY PICK UP DATE AND TIME IF YOUR DUMPSTER IS FULL BEFORE THE 7TH DAY.
• NO CONSTRUCTION DEBRIS

For Easy Payment Processing, We Now Take ZELLE Payments At The Following Email Address:
francorolloffcontainers@gmail.com